WLP Welcomes Another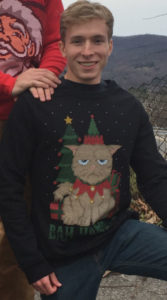 Getting to know WLP's newest Hokie…
What is your favorite current TV show and favorite show of all time (if you have one)?
Currently, my favorite TV show is Shameless.
Where did you grow up, and is there anywhere you'd want to move to?
I grew up in Fairfax County. One day I want to move closer to the Appalachian Mountains.
What is your favorite food/restaurant – District Taco or Taco Bamba?/strong>
Taco Bamba (Interviewer's note: The correct choice.)