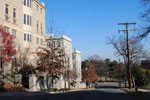 Bromptons at Monument Place – Arlington, VA
Bromptons at Monument Place is a 15 unit luxury townhome development in the Rosslyn neighborhood of Arlington. The prime location overlooks the Iwo Jima Memorial and the skyline of Washington DC. Responsibilities for this project included all surveying, planning, landscape architecure and civil engineering [read more…]
---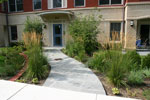 Clarendon 3131 – Arlington, VA
Clarendon 3131 is a 4-story, 16 unit condominium building located in the Clarendon area of Arlington County. The project is unique in the fact that two of the units are townhouse-style (3 stories with separate garages). The remaining 14 units are typical 1-story units with a shared, covered parking area. [read more…]
---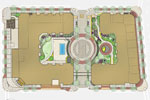 Virginia Square Towers – Arlington County, VA
Virginia Square Towers is a mixed use development in the Virginia Square area of Arlington County. It is approximately 1 block from the Virginia Square Metro station and consists of the entire block between Fairfax Drive, North Lincoln Street, Wilson Boulevard, and North Kansas Street. [read more…]
---
Bromptons at Cherrydale – Arlington, VA
The first phase of the project was 25 townhomes completed in 2004 in the 2000 block of Oakland Street North. The townhomes provide living space on up to 4 levels, 3 to 4 bedrooms, and garage parking.
---
Bromptons at Rosslyn – Arlington, VA
Bromptons at Rosslyn is a community of 17 townhouses on Quinn Street North in Arlington, Virginia. Built in 2002, residences feature 3 or 4 bedrooms, 2 car garages, and approximately 2400 to 2800 square feet of living space.
---
Bromptons at Courthouse – Arlington, VA
A 21-unit luxury townhouse community built in 2004, located near the Courthouse Metro at Clarendon Blvd, N. 16th Street, and N. Rhodes Street, Arlington, VA 22209. Units have 2-car garages, a courtyard, and private balconies.
---
Bromptons at Clarendon – Arlington, VA
A 38-unit luxury-townhome community located near the Clarendon Metro on Washington Blvd, N. Kirkwood St., N. Johnson St., and N. Jackson St., Arlington, VA 22201. The townhomes were built in 2000 and have attached garages.
---
Printers Row – Alexandria, VA
21 townhouse style condominium units with approximately 2,000 square feet of retail and underground parking
---
Other WLP residential projects include:
Rugby Road – Fairfax, VA
Quincy Plaza – Arlington, VA
Courtland Towers – Arlington, VA
Amanda Place – Fairfax, VA
Wolftrap Creek Estates – Fairfax, VA
Wexford East – Fairfax, VA
Crest Ridge Estates – Prince William County, VA
Langley Forest – Fairfax County, VA
Ethel's Pond – Fairfax County, VA
Bannerwood Estates – Fairfax County, VA
McLean Commons – Fairfax County, VA
Bittersweet Farm – Loudoun County, VA
Bittersweet Farm – Loudoun County, VA
Fairchild Property – Alexandria, VA
Slater's Lane – Alexandria, VA
Millbrook Apartments at Mark Center – Alexandria, VA
Besley Farm – Fairfax County, VA
Robinson Estate Subdivision at Dulany Place – City of Falls Church, VA
Birchwood Apartments – Arlington, VA
Compton Village – Fairfax County, VA
Williamsburg Commons – Fairfax County, VA
Richmond Square – Arlington, VA
Mirror Ridge – Loudoun County, VA
Randolph Towers – Arlington, VA
Falls Station Condominiums – Arlington, VA